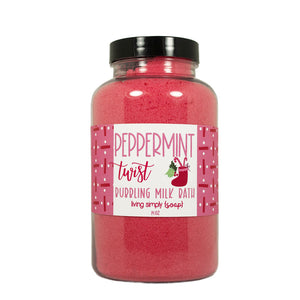 Peppermint Twist Bubbling Milk Bath
Regular price
$ 16.95
$ 0.00
NEW this year!  When we smelled this one we knew is was going to be a holiday favorite!  Mouth watering blend of peppermint, buttercream frosting and a pinch of chocolate!  You will want EVERYTHING in this great fragrance!!! 

This luscious blend of whole milk powder, baking soda, fragrance and mild bubbling powder creates the most silky soft soak you will have to experience to believe!  Your skin will feel incredible...no tight dryness...just smooth and soft! You see why we call it the "Best Bath I Ever Had"! 
Sodium Lauryl Sulfate and Paraben FREE!

Comes with a scoop in every container.  1/3-1/2 cup is plenty. 
Sodium Lauryl Sulfoacetate (mild bubbler), Whole Milk, Salt, Sodium Bicarbonate, Citric Acid, Fragrance Oil, D&C 21 Red Alum Lake
---
More from this collection