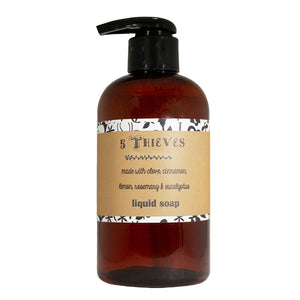 5 Thieves Liquid Soap
Regular price
$ 10.95
$ 0.00
During the plague in Europe, the story is thieves would go around and steal from the dead bodies.  When they returned home with their loot, they would wash with this blend of essential oil.  They did not contract the plague and it is believed these oils played a major role in protecting them. Many now use this recipe to reduce the risk of spreading bacteria and viruses.   We love the fragrance of this essential oil blend of clove, lemon, cinnamon, eucalyptus and rosemary!
This gentle soap is made from a blend of glycerin, olive oil, coconut oil and oleic acid.  It will leave our skin so silky soft and smelling great!  And best of all...it's real soap and not just a blend of sudsing chemicals! 
Purified Water, Potassium Hydroxide, Glycerin, Coconut Oil, Olive Oil, Oleic Acid, Lemon, Clove, Cinnamon, Eucalyptus and Rosemary Essential Oil

Net 8 oz.
---
More from this collection